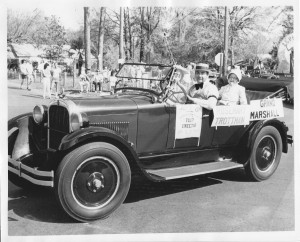 The nominating committee is proud to announce the selection of TEN Grand Marshalls for the 100th Anniversary Founders' Day Parade this Saturday. They tabulated all the entries and have confirmed that each of these people will represent one of the decades of Zephyrhills history.
1910
George Neukom, son George III, and grandson George IV
The Neukom family moved from Indiana to Abbott Station now Zephyrhills in 1910. The family operated Neukoms Drugstore from 1921 until closing the store in 2001. George was and is still active in the local business and the citrus industry. George III now operates Neukom Groves, shipping fresh citrus over most of the United States.
1920
Brantley Smith and brother Buddy
The Smith family dates back to the late 1800's. The Smith brothers played sports at ZHS developed Silverado Golf Course. The family donated land for the YMCA on Eiland Blvd. Involved in local politics, brother Stephan was elected to Zephyrhills City Council, and Buddy's son Lance Smith is currently seated on the Zephyrhills City Council.
1930
Nathan Geiger
A local family with deep roots in the community, Geiger owned and operated a local grain and feed store.
1940
Coach John Clements
He moved to Zephyrhills in the late 1940's and coached the Bulldogs baseball team for 21 years. ZHS baseball field named in his honor in 1983.
1950
Helen Winters
Her late husband Gordon opened Winters Park, the oldest park in Zephyrhills and a direct descendant of the "Tin Can Tourists."
1960
Clyde Bracknell & Bill McGavern
Two former basketball players from the 1962 class B state championship team. Clyde Bracknell, long time city councilman, has the distinction of serving twenty nine years, more than any other council member. Bill McGavern is a local businessman, banker, realtor, and Chairman of the board of HPH Hospice.
1970
Sam Surratt
Local businessman served on city council 1953/1954 and again 1957 to 1976. A lot of changes came to Zephyrhills the most notable the recall election of 1976 and the sale of railroad property.
1980
Nelson Ryman
Moved to Zephyrhills in 1969. Nelson owned and operated H&R Interstate Homes, as a local businessman he was very successful due to the growth of over 55 senior communities that now total over 150 in the area. Nelson is active in the Daybreak Rotary Club of Zephyrhills and has worked for over ten years supporting the orphans at Tytoo Gardens in Haiti.
1990
Irene Dobson
She has been a civil rights activist in the City of Pure Water and has seen many changes including changing the name of 6th Ave. to Martin Luther King Ave.
2000/2010
Marcus & M.J. Price
Representing the new Zephyrhills, husband and wife team Marcus & M.J. Price founded Goin' Postal, a shipping franchise with over 300 locations. Goin' Postal has been listed as one of the fastest growing franchises in the country. Watch for their next franchise Hut 8!